North Lykken Trail
North Lykken Trail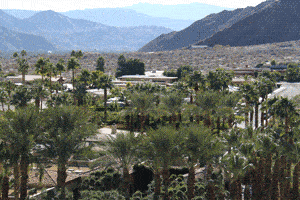 This is a moderately strenuous hike, but the views of Palm Springs and Tahquitz Canyon make it worthwhile. The trail will lead you about a mile and a half where you will find the picnic tables that are also accessible from the Museum Trail that leads from the Palm Springs Museum. You're welcome to bring your dog, but she must be leashed.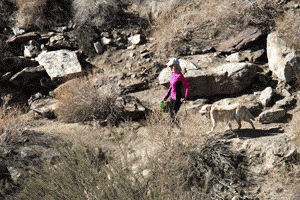 If you are really feeling good you can continue on the North Lykken by heading around the corner of the mountain past the picnic tables. From there the trail will take you down into Chino Canyon. The trail will meander through the wash and take you up the other side to another set of picnic tables.
The North Lykken Trail can be accessed from the west end of Ramon Road. Follow Ramon Road till it ends at the mountain, and you will see the trailhead off to the right. Park on the side street off Ramon Road, being careful to watch for no parking signs.

Help us keep this trail beautiful and dog-friendly:
• Always follow the posted rules as they may have changed
• If in an off-leash area, keep your dog under voice command
• Respect and protect wildlife and habitats
• Pack in and pack out, leaving only paw prints