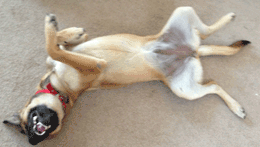 Dyna
At Bay Area German Shepherd Rescue, it's all about the dogs and what's good for them. Nobody needs unnecessary trauma. Which is why these folks don't just rescue dogs from shelters. They work in a positive, collaborative way with people whose life changes force them to give up their dogs, to keep the beloved pets from ending up in the shelter in the first place.
The all-volunteer organization is also committed to caring for all its rescued German shepherds in foster homes, not boarding kennels. All contributions support the dogs, nothing is spent on expensive facilities or other overhead. This enables the volunteers to learn about each puppy or adult as an individual, and find the forever home that's a perfect fit.
Recently arrived in the program is Dyna, a 9-month-old GSD/Malinois mix described as "a very well socialized, happy, friendly puppy" who, as seen here, is not one to turn down a belly rub. Her first love is people, but she also plays happily with other dogs. She'll do best with a dog-savvy person who finds plenty of fun outlets for her puppy energy. She's currently being fostered in Vacaville; if you'd like to meet her, email info@bayareagsr.org or call (855) 473-5683.
Posted on: June 29, 2022