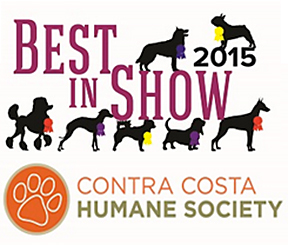 Here's a fun evening out for you and your canine pal: "Best in Show," a benefit bash for the Contra Costa Humane Society. It's an event like no other, where you and Bosco can dress to the nines and enjoy meeting and greeting your fellow guests — all while watching a live broadcast of the 139th Annual Westminster Kennel Club Dog Show on the big screen. There will be hors d'oeuvres and desserts, as well as fine wine and Champagne from some of the best local purveyors. Door prizes and other surprises add to the fun.
It's all happening at the Concord Hilton on Tuesday, February 17, from 6-8:30 p.m. If your leashed pooch is current on vaccinations and good in crowds, he's very welcome to join the festivities. Tickets are $75 per human (no charge for canines who accompany their peeps); various sponsorship packages are also available.
Events like this make a life-saving difference to the guests at CCHS, like Melody here.
This sweet, senior beagle mix came to CCHS after her owner became homeless. The two of them had been through some hard times for most of their life together, but Melody was loved and doted upon, which shows in her upbeat disposition and agreeable nature. She greets humans cheerfully, soaks up all the affection she can get, and gets along great with dogs and cats.
As a result of previous hardships, Melody comes with some medical issues. She's got a bit of non-degenerative stiffness in her hindquarters, but enjoys going for walks. She's also incontinent, and needs a person prepared to deal with this issue; she is used to wearing a diaper and deals easily with having it changed. CCHS wants to find the perfect place for this sweet girl to enjoy her golden years in peace and comfort.
Posted on: June 29, 2022