Since we last visited DogWorks Canine Rescue in Vacaville, it seems that there's been no letup in the pace of Dobermans finding themselves homeless. It's always been the case that some people have been attracted to these intelligent, high-energy dogs and then found themselves overwhelmed by their real-life demands, but lately the long-term havoc created by the economy has also taken a heavy toll.
DogWorks' Leanne Loza explains an innovative way the rescue has stepped up to adapt to the new demands. In response to a flood of requests from owners losing homes and jobs, who can't keep their dogs as a result, "we developed a program called 'direct referral,' where we make connection between owners and adopters without taking the Dobie into foster care. To qualify for this program, the Doberman must be spayed/neutered, vaccinations and heartworm status current, with vet proof to support the claim. Adopters whom we've already screened as good adoption candidates may meet the Dobie either in neutral territory such as our foster homes, or at home of either party. A condition of the adoption is that no funds be exchanged between parties."
For the first time in their history, DogWorks fosters are hard pressed to keep up with the deluge of Dobies landing in Bay Area shelters, but fortunately, Dana Johnson of Red Bluff-based Northern California Doberman Rescue has been able to take in many of those dogs as well.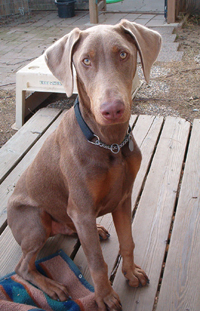 Currently in foster care with DogWorks and picking up his training is this handsome boy, Mocha, now 7 months old. He's learning his commands via hand signals because he's deaf (perhaps his adopter will enjoy taking him to the monthly meetups of the Bay Area Deaf Dog Club…). As far as he's concerned, he's perfect, so he needs a person who loves him and stays one step ahead of him too, especially through his teenage years.
Posted on: June 29, 2022