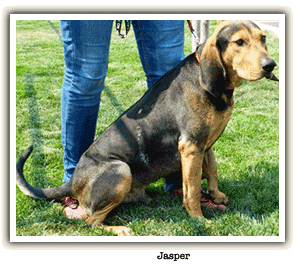 Since we last checked in with Haven Humane Society, they've opened up the spacious new Anne Morgan Adoption Center, which is, says rescue coordinator Spenser Curran, a night-and-day improvement over the old facility that housed the Redding area's homeless animals. Prospective adopters love the spacious, welcoming environment; the cats now have their own kitty condo, and the dogs really appreciate the heated floors (hey, it gets cold at night up there!).
Besides offering spay/neuter services to the community, part of Haven Humane's work is providing medical care to the animals who land in the shelter. Like Jasper here, who was hit by a car and arrived with three broken ribs and other life-threatening injuries. No one thought he would make it, including the vet who worked so hard to save him; she now says it was only the happy young hound's will to live that pulled him through.
These days Jasper's in foster care and shows little evidence of his early trauma, but wins friends everywhere with his amazing personality and sunny disposition. Now that he understands how good life can be, he's looking for someone to share it with. He's waiting to hear from you.
If you're in Redding October 5, don't miss Bark & Wine & Brew, Haven Humane's annual fundraising gala with wine and beer tasting, auction items, and other fun. Help dogs like Jasper heal and have a happy life!
Posted on: June 29, 2022