Here's a photo of soldier Kaylan and her beloved dog Indy in Afghanistan. Today, thanks to Puppy Rescue Mission, they're living happily together in the US.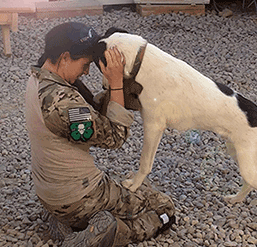 Kaylan and Indy. Photo: Puppy Rescue Mission
Since we first told you about Puppy Rescue Mission in 2010, the group has been able to bring hundreds of dogs, and quite a few cats, home to the US from Afghanistan, where they've become "battle buddies" to military personnel. After three local dogs, Sasha, Rufus, and Target, saved U.S. soldiers from a suicide bomber, at the cost of Sasha's life, Spc. Chris Chiasson was determined to get the surviving dogs out of Afghanistan, where they faced near-certain death after the troops left; fiancée Anna Cannan got to work, and Puppy Rescue Mission was born.
In the years since then, PRM has garnered legions of supporters, from thousands of Facebook fans to heavy metal legend Rob Zombie, who frequently donates tour proceeds and charity auction items to help out. Thanks to all of them, service men and women who want to get dogs out of the war zone have a place to turn. Most dogs for whom PRM raises funds have homes waiting for them with their soldier's family, but in some cases, those who urgently need rescue also need foster or adoptive homes once they get to the US. For them (and felines in the same situation), there's Sasha's Legacy, named after the dog whose lifesaving sacrifice inspired PRM; it provides funding to get these "battle buddies" to safety and ultimately into loving homes.
With the holiday season upon us, we think a great way to thank our troops for their service is to help keep them and their buddies together, like Kaylan and Indy. We salute PRM for making this happen.
Posted on: June 29, 2022