Vet Buzz from Bill Barboni, DVM and Chris Pitts, RVT,
Marin Pet Hospital, San Rafael, CA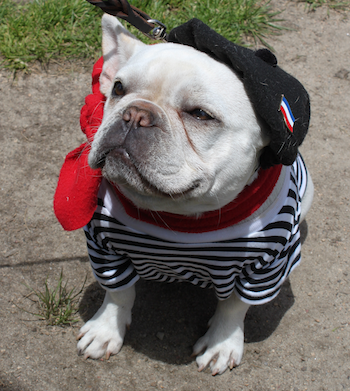 While many uprights revel in the mayhem of Halloween, this night can be especially hard on dogs. Here are our top five tips to ensure a safe and fun evening for you and Fido.
1. Keep all that yummy candy out of reach of Fido and in a sealed container.
2. Make sure your gates are closed after the trick or treaters come by and before you let Fido back in the yard. Every year we see a dog get hit by a car because a little ghost or goblin has left the gate open and Fido decides to take himself for a stroll.
3. If Fido wears a costume and/or goes out after dark, make sure he is wearing something reflective. An alternative are little flashing dog-tag lights that attach to collars and are available at most pet stores.
4. Many dogs get overly excited when the doorbell rings. Depending on your dog's temperament it may be a good idea to give Fido a cushy place to hang out away from the front door during trick or treat time.
5. Many dogs may be nervous around people in costume, even if they are people they know really well. Ask people to speak as they approach your dog and remove masks or large hats if your dog seems nervous. If your dog is really nervous your best bet may be to kindly ask the person in costume to take a wide berth around your dog and compliment the person on their super scarey outfit.
Posted on: June 29, 2022