Maddie's Matchmaker Adoptathon® is back for the third year June 9-10, planning to spend that weekend emptying out every shelter in San Francisco, Alameda and Contra Costa Counties, and getting all those animals into loving homes.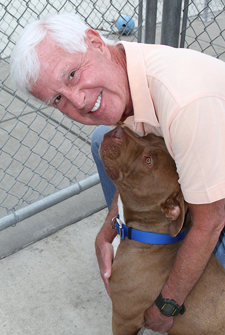 Maddie's Fund® founded by Dave and Cheryl Duffield in honor of their beloved schnauzer Maddie, is making it really easy to adopt from 65 participating shelters, humane societies and rescues at 80 locations. There's no adoption fee to the adopter (licensing fees still apply where relevant), and Maddie's Fund makes a donation from $500 (for dogs under 7) up to $2,000 (depending on the dog's age or treatable medical issues) to the shelter or rescue. It's a big win for the dogs, their new loving homes, and an even bigger win for the dogs who land in the care of the rescues and shelters the rest of the year. Last year, for example, the City of Oakland's Animal Services department received $99,000 from Maddie's Fund for adopting 166 dogs and cats during the Adoptathon weekend —more than their entire annual operating budget from the city.
So if you're looking, there's no better time than the Maddie's Adoptathon weekend to find and take home a new best friend. But don't wait till the last minute.
That's the advice we're getting from Patty Stanton of Muttville Senior Dog Rescue, which will be participating in San Francisco. "Prospective Muttville adopters can start the process now and be ready to go home with their new companions by Adoptathon weekend, June 9th & 10th in San Francisco. You'll not only support the mission of rescuing senior dogs, you'll be helping us save more dogs because Maddie's Fund will donate $1,000 per senior dog adopted that weekend. For Muttville, that defrays the veterinary cost of preparing our dogs ready for adoption. So if you're thinking about adopting a dog, this is the weekend to make it happen!"
Photo: Dave Duffield and friend at Oakland Animal Services — Maddie's Fund
Get info on participating organizations and check out their dogs
Posted on: June 29, 2022