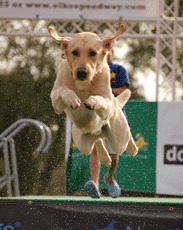 With summer around the corner, it might just be time to get your water-loving canine acquainted with the sport of dock diving. You can practice in a pool, at a lake or on the banks of a riveróand who knows, with enough experience, your flying friend might go on to catch big air in front of an adoring audience.
Splash Dogs, based in Contra Costa County, was founded by Tony Reed after discovering that his black Lab, Sierra, was, well, part flying fish. The outdoor event he developed has turned into a crowd-pleasing phenomenon that travels the country and has appeared on many a television show. Splash Dogs compete for distance, jumping from a dock into a 40-foot pool. The company sponsors competitions in open and "lap dog" divisions as well as instruction for newbie dog-handler pairs. Top-ranking dogs have broken the 26-foot mark.
How to get started? Find a Splash Dogs event near you, check out the newcomer's guide and be ready to pony up a fee for a Splash Dogs instruction session. Happy dock diving!
Photo of dock-diving dog by Jumping Lab (CC)