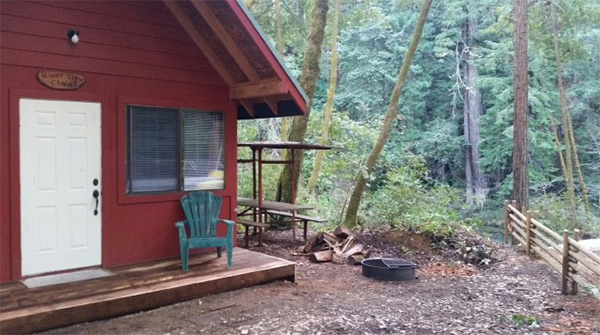 Developed as a logging camp in 1907, Camp Noyo, originally called "Camp Four," was the fourth camp established by the Union Lumber Company as it progressed east from Fort Bragg along the current route of the California Western Railroad's Skunk Train. The property was donated to the Boy Scouts of America in 1933 and continues to operate as a scout camp for several weeks every summer.
Th camp has been made available to the general public on a limited basis.
This unique property has eight private campsites and one River View Chalet, flush toilet, wood-heated showers, and the use of canoes, kayaks and rowboats.
The seasonal summer dam creates an estuary that allows boat access to a mile of the river upstream of the camp. The Noyo River is crystal clear and cold and has several very deep pools that are home to rainbow trout, steelhead, salmon, river otters, ducks, salamanders, and frogs. Enjoy a brisk swim or just nap under the afternoon sun and on the floating dock anchored in the middle of the river.
Interested parties are encouraged to book their reservation early for this truly unique opportunity.
Overnight camping requires a two-night minimum. Check-in days are Fridays and Saturdays May 13 to May 27 and September 29 to October 28. From June 1 to September 25, check in is available seven days a week.
Pricing for the campsites includes cook kits (pots, pans, two-burner propane camp stove, and propane), and full use of camp canoes, kayaks, and row boats on a first-come, first-served basis. Pricing does not include train fare to and from campsites. Each campsite will have an adequate supply of firewood. Hot indoor showers are available for those who choose to build a fire in the wood-fired hot water heater.
Pets — Only dogs that have been pre-booked are welcome. No other animals are permitted. Dogs must be leashed.