In its new incarnation, Carmel Valley Ranch has transitioned from a golf and tennis resort to something more magical. In addition to revitalizing the existing structures, we've added a 10,500-square-foot spa, and created the ideal environment for play to be incorporated into every aspect of life, so that guests go home utterly relaxed and invigorated.
The Ranch is rich with activities ranging from hiking and yoga to apiculture and wine tasting. Challenge yourself on the picturesque golf course, test your skill on the tennis court or retreat to the spacious, all-suite accommodations to enjoy a soothing fireplace and breathtaking vistas of Carmel Valley.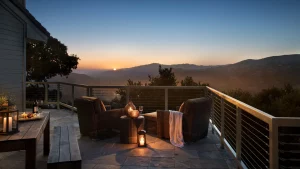 Dog-friendly policies:
Size: All sizes
Breed restrictions: none
Cost per dog: $150 Per Stay
Percentage of rooms that are dog-friendly: Over 50%
Other comments: Pets must be leashed at all times while on property. Pets are restricted from the following areas of The Ranch: The Lodge Pool and Cabanas, Spa Aiyana, Valley Kitchen main dining area, the Organic Garden, the Clubhouse, and River Ranch.
Dog-friendly property amenities:
Dog Waste Bags
Cozy Dog Beds
Dining/water bowls
Dog-friendly hiking/activity/attractions guide/listings at front desk