Scenery is what it's all about at North Lake Tahoe, and there are so many ways to fill your eyes that we can mention only a few (more hikes here). If a casual stroll will satisfy, check out the new Tahoe City Lakeside Trail, a paved, multi-use path joining two segments of the 19-mile bike path hugging the Truckee River all the way to Palisades Tahoe, where a new parking area with restrooms has been established. Also on the easy side is Page Meadow (sometimes spelled "Paige"), where you'll encounter beautiful mid-summer wildflower displays along with glorious views of the lake and the snow-dappled Sierra crest.
Zuke's encourages you to live life off leash!
Once you've got your wind, a lifetime's worth of hiking trails await. Five Lakes Trail in the Granite Chief Wilderness is often named as one of the best day hikes in the North Lake Tahoe region. It starts on Alpine Meadows Road at the junction with Deer Park and climbs at a fairly gentle rate for the first half-mile. From there it steadies out as it rises up the flanks of the canyon dividing the Alpine Meadows and Palisades Tahoe ski areas.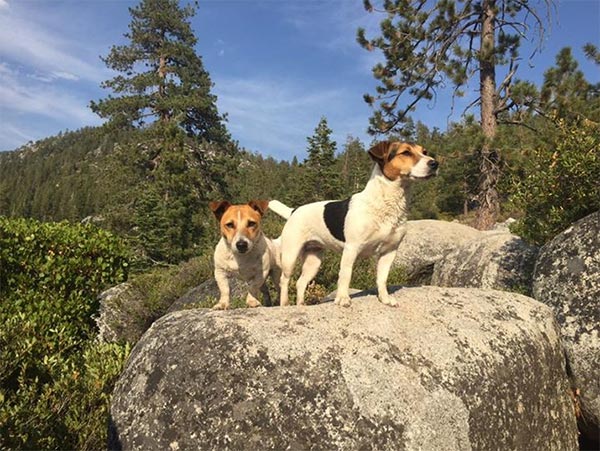 After about two miles, you'll pass into the wilderness area and spot the first of the five lakes, a sparkling body of water connected to a sister lake by a narrow strait. Considering the scenic overload, this might be as far as you and Fido care to go. Of course you've brought sunscreen, snacks and a hat. Dangle your feet in the water, throw a stick or two for your friend and be happy you live so close to this granite getaway destination.