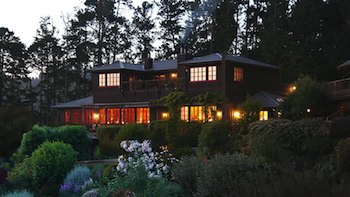 One of Mendocino's favorite dog-friendly inns is the Stanford Inn by the Sea. Featured in Oprah Magazine and more than 139 other publications, as well as on TV, this hillside resort overlooking the rugged Mendocino coast was one of the first inns in North America to adopt sustainable practices. On top of that, the "pets welcome" sign has been out for decades!
While the Stanford Inn has seen a large variety of non-human visitors over the years, including cats, iguanas, parrots, Vietnamese pot-belly pigs and even a tortoise, it's dogs that get the most attention. Upon arrival, you and your pet will find a welcoming treat, stainless steel food and water dishes, "dog sheets" to protect the furniture and a supply of Intelligent Products pick-up bags.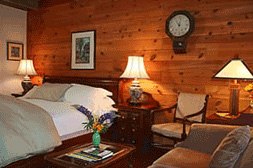 If your four-legged companion requires a special diet, the Stanford Inn can provide steamed vegetables and treats made with organic sweet potatoes. Dog beds are available on request, but owner/innkeepers Joan and Jeff Stanford suggest bringing your pet's favorite bed or blanket with you.
Adjacent to the Stanford Inn is outfitter Catch A Canoe & Bicycles Too, where dogs are as welcome in the office as in the watercraft that can be rented for exploring the Big River and beyond. The folks at the shop warn that if your dog is a land-lover or decides to make a quick turn, the whole party may become very wet very quickly. To guard against spills, rent a Mad River Winooski canoe modified to create an incredibly stable environment for dogs. Interior carpet, water bowl and dog biscuit are included.
Now that's dog friendly!