Here's what intrepid DogTrekker Tracy M. wrote to us about her family's recent trip to the Stanford Inn in Mendocino.

"If you're ever in the Mendocino area, I highly recommend the Stanford Inn. We went there with three of our fur babies, and were greeted with "welcome" chocolates for us AND "welcome" doggies treats for the dogs. The room we stayed in also included a fireplace and had a couch with special doggie blankets!
There is a dedicated section in their dining area where you can bring your pets and enjoy breakfast with a nice cup of coffee, while reading the Sunday newspaper. This will definitely be my go-to place in Mendocino from now on.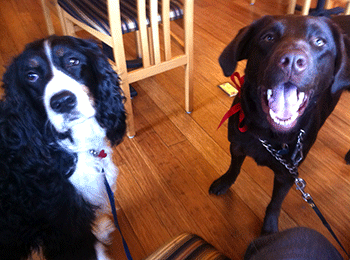 NOTE: The food they serve is vegan/vegetarian, so if you're a meat lover, be sure to pack a cooler of your favorite grub to keep in your room.